Hajcman, a tramp-swing group with its roots in Brno, released their expected debut album Jednou to bude (It Will Come to Pass). The band's name, derived from the Czech word for a supporting steel frame in coal mining, is a reference to cave exploring, the hobby of the group's leader Martin Škrobák, whose first band was called Stalaktit (Stalactite). While the album largely showcases the talents of the tramping legend, it does feature a sample of the band's work in the form of two songs by Martin, hinting at the direction of the band's future album of author's songs. It's Jaroslav Velinský aka Kapitán Kid who is the author of the most of the debut's collection of songs, the result of over a decade's effort. An old friend of Martin's, as well as a fellow musician and inspiration to him, the tramping music king Kapitán Kid had planned to record some "blasts from the past" in 2005 with his previous outfit the Banjo Gang, as described in the sleeve notes and associated songbook. Joint recording sessions with Martin and his friends took place subsequently, but Velinský's best-known tramping songs from the CD Tempo di kůň (Tempo de Horse; released in 2007) were eventually preferred. This is how these tracks came to be short-listed, with the blessing of Kapitán Kid himself, and recorded just a few years after the songwriter's death, making it essentially a tribute to him.
It is an unquestionable decision to set out with an album that pays homage to a friend and leading light of the genre by musicians devoted to the musical style, who also share a devotion to tramp swing and the unusual banjo ukulele. Even more so through the act of seeking out songs by Kid stashed away rather than cherry picking from his better-known material. And what a back catalogue there is, since many of Kid's songs, some over fifty years old, are becoming part of the traditional folk canon: Slaboch Ben (Cowardly Ben, 1955), Krinolína (Lariat, 1959), No to se ví (Of course, 1974), Jenoféfa, Malá Jane (Lil' Jane), Eldorado, Kdo mi zatlačí oči (Who Will Close My Eyes) and many others.
Jaroslav Velinský, better known as Kapitán Kid (1932–2012), boasted several talents and skills. A former apprentice turner and graduate from a vocational college, he worked as a coal miner, a night guard at a zoo, a repairer of sports tools and paraphernalia, and, after the Velvet revolution, as a sign writer, graphic designer of adverts, typographer, and as an employee of the Theatre of Music (Divadlo hudby) in Liberec. He was incredibly productive in literature as well, penning dozens of detective stories (featuring Ota Fink, a retired detective), science fiction novels, and historical and adventure books for kids. Together with Jiří Šosvald, Kid founded Porta, a musical festival, in Ústí and Labem and was active as its producer for several years. From the 1950s onwards, Kid was a composer of tramping songs. His first original album (No to se ví – Of course), however, was released as late as 1983 on Supraphon after numerous battles over the lyrics of the featured tracks. By 2009, though, he'd released another six albums and guested on a couple of others. In later life, he gave performances, whether by himself or with the Krakatit band, and enjoyed working with younger musicians playing in the tramping style – as was the case with Martin Škrobák and his friends.
The four-member group of Hajcman is quite unorthodox, compared to a normal tramping band; while still amateurs, they clearly have the desire to perform at the highest possible level. The band consists of singer, guitarist and banjo ukulele player Martin Škrobák, Tomáš Martiník on mandolin and guitar, Tomáš Juřena on dobro and Kamil Mazálek on double bass. Another trio of musicians guest on the album: Vlado Kali Hässler, drums; Michal Rolf Semerád, harmonica and Petra Thielemannová, who sings two songs devoted to Kid, Swing pro Jarmilku (Swing for Jarmilka) and Rokenrol pro Jarmilku (Rock'n'roll for Jarmilka).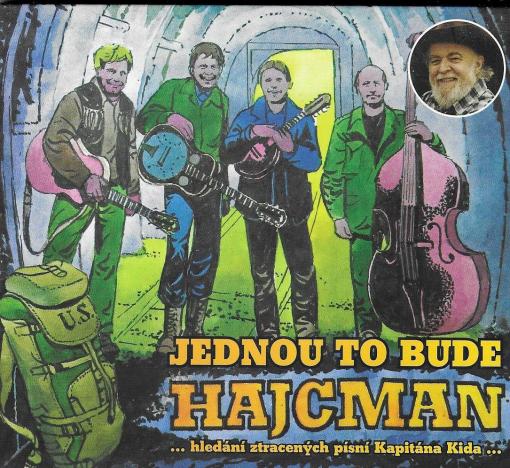 The sub-heading says it all: Hledání ztracených písní Kapitána Kida (In Search for Kapitán Kid's Lost Songs), highlighting the fact the album Jednou to bude (This Will Come to Pass) pays homage to the artist who inspired it. Martin Škrobák contributes two original tracks – O holce z vagónu (The Girl from the Wagon) and Vypilmetyl (The Methyl Alcohol Drinker), a humorous ballad that brings to mind Kid's Hoří (Fire!), along with the well-known Fordka (Ford) by Petr Hošťálek, which Kapitán Kid used to play with the band Krakatit, and Bídnej džob (A Miserable Job), a slightly obscure song by Ryvola, all of which make up the album's running time (nearly fifty minutes).
From a subtly different perspective it includes songs with lyrics tailored to female singers, Swing pro Jarmilku (Swing for Jarmilka) and Rokenrol pro Jarmilku (Rock'n'roll for Jarmilka), created to show off the striking vocals of Jarmila Jamajka Koblicová and her band VeRumKa from Kadaň. The other eleven pieces by Kapitán Kid are pure, quick tramping songs in the swing style. Although the quality of the lyrics varies, the music is adeptly handled by Hajcman, through its arrangements and very pleasant, even masterful performance, taking these songs beyond anything recorded by Kapitán Kid, with any accompaniment, in the past. Martin also attempted to discover exactly when the songs were penned. From what he was able to find out, the songs date from the period between 1954 (Když je život votrava – When Life Is a Vanguard) and 1974 (Návrat domů – Return Home). Some lyrics deride consumerism or criticize the environmental situations (Divnej sen (Strange Dream), Holubi (Pigeons), Jednou to bude (This Will Come to Pass), while others convey a sense of Kid's characteristic nostalgia (Návrat – Return, Betonová hráz – A Dam of Concrete, Mary Celeste, and the ironic take on himself His Master's Voice). Mariam z ranče (Mariam from the Ranch), a song chock-full of every possible tramping cliché, represents a parody of sweet-sorrow tramping songs from the period of the First Czechoslovak Republic. A similar kind of parody, now targeting "outlaw songs" from the same period firmly situated in the American mid-West, is the song entitled Special Blend of Buchanan. The album makes for pleasant listening as a whole. In addition to singing, it contains numerous musical stand-out moments on guitar and harmonica, some great cross-picking on mandolin and walking bass lines, solos on banjo ukulele and dobro, and adept percussion, sensitively integrated into the performace. Everything is above and beyond the standard of normal campfire songs, although I personally like those, too, and associate them with songs by Kapitán Kid. Simply put, Hajcman present a slightly different take on tramping music and I look forward to an album by them of original material.
The CD has a fetching three-piece cover, the front showing an original portrait of the band members by Marko Čermák, a banjo player in the Greenhorns and the well-known illustrator of the Rychlé šípy (The Rapid Arrows) comics. A related songbook is also available, containing chord charts and lyrics in full.
CD of Hajcman: Jednou to bude. Hledání ztracených písní Kapitána Kida. (It Will Come to Pass. In Search for Kapitán Kid's Lost Songs) 2020, private pressing. (kapela.hajcman@gmail.com)