The small Ponava music club has been renowned in Brno last several years for its very high quality music production. Here and there, its diverse programme also features folklore projects. On Thursday, a duo of the well-known multi-instrumentalist Marian Friedl and the Lachian vocalist Sabrina Pasičnyk performed on this stage.
Marian Friedl also performed for several years with the recently deceased violinist Jitka Šuranská. At the beginning of the concert he briefly remembered her with nice words and several songs, for example from the big concert work Beránci a vlci [Lambs and Wolves].
Friedl plays not only a large number of instruments, but is also active in several music formations. For all of them, I will mention the purely male band RukyNaDudy (a Czech pun that won't easily translate into English), which is the opposite of the fragile duo that we could see and hear at Ponava. Sabrina Pasičnyk has a beautifully coloured, resonant mountain voice, but her expression was very gentle even in energetic songs. She often accompanied herself on pipes or tiny percussion instruments, of which they have a countless number in their instrument store. In addition to singing, Friedl played bagpipes, dulcimer or double bass, and he topped-up everything by telling stories of the origin and history of individual songs, which were not only folk, but in some cases also authorial. Some of them are to be heard on the recently released album Beskydská odysea [Beskydy Odyssey], which should not escape folklore enthusiasts, who love vigorous and distinctive folklore of Wallachia and Lachia.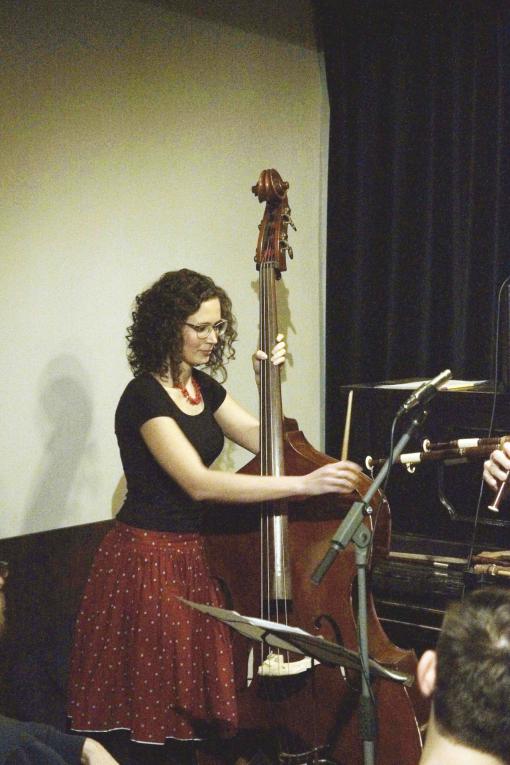 The concert was caressing the soul in the intimate atmosphere of a darkened club on the edge of the Lužánky Park and I believe that this duo from the Wild North will arrive in Brno again and will please and brighten the day to other potential listeners with its empathic expression.