The duduk is an Armenian two-stringed instrument, a relative of the oboe, and an item listed as UNESCO Intangible Heritage. It is most often made of apricot wood and is one of the most dynamic woodwind instruments. Young virtuoso duduk player Arsen Petrosyan has included eleven songs and other melodies from different parts of Armenia on his current album Hokin Janapar. Arsen Petrosyan will perform with his Quartet on Monday 26 July at the Folkové prázdniny (Folk Holidays) festival in Náměšt' nad Oslavou. His night-time concert will take place from 11 p.m. in the venue called Stará tkalcovna, Náměšť.
In what musical genres has the duduk found its most frequent use in the past and in the present day? Should we associate it primarily with Armenian folk music?
Today the duduk is considered a traditional classical instrument, not a folk music instrument. Of course, it was used for centuries in the past by people in the countryside, but today we really see it as an instrument of classical music. This is how the current young generation sees it and I am proud to present it to the world. In addition to that, it is also used by folklore ensembles, it is played in avant-garde music, it is also used in film music and rock... It has a wide range of applications.
Did you yourself have any family role models in playing the duduk?
Yes, my family roots are responsible for my playing the instrument. My great-grandfather played it, my grandparents were also into music, they were naturally very talented. Moreover, the duduk was and still is considered the national Armenian instrument. Today, when parents want to send their child to music school to learn to play a traditional instrument, they often choose the duduk. I started to learn the flute at the age of six because it was easier. I switched to the duduk later.
This spring you released your new album Hokin Janapar. What concept did you choose when compiling it?
The name Hokin Janapar means "The Way of my Soul" in Armenian, and this name suggests a lot. All the songs on the album are in some way a personal statement for me. There is a story behind each of them and they all sum up my emotions and my purpose in life. That's why I gave the album this title. I've had this concept in my head for the last five years, since the release of my first album. I tried to play those songs in concerts and gradually created this album. It's like when you cook. You add individual ingredients, you think about what to use to spice up the whole. The result is an album that is very personal to me and that represents me as a person.
The album contains instrumental versions of songs that initially mostly had lyrics. Are or were these lyrics important for you in the creation of the album?
When you play a song – and on this album I play mainly traditional songs – it's good to know the content. As a player, my first focus is on the melody, but the lyrics are of course also important to me. I should know what the songs I play are about, what my music is about. Although I consider the music itself to be the more attractive part of the statement, there are some songs on the album through which I have a direct connection to my family. For example, there's a mixture of two tunes Nazani and Broyi that I dedicated to my father. They were his favourite songs. I remember that when I was a kid in music school, my dad wanted me to sing these songs for him. My father died when I was fifteen, but this memory is etched deep within me. And because it was through my father that I became a musician, I take this song as a bond between myself and my family and specifically my father. That's why I dedicated it to him.
The listener does not have the lyrics when listening to your music. So what story do you want to tell him?
The most important "story" that listeners who don't know much about Armenia and Armenian music should take away from my music is the sound itself. It's my story, the story of a duduk player. Of course I explain or tell a little bit during concerts, but the music itself should be the most powerful experience. Music is an expression of what I feel inside and what I want to convey to my audience. Music is generally an understandable language, and even if you don't know the lyrics, the music itself is the most effective tool. It can reach out and connect you with the musician.
You may perform as an Armenian musician, but you actually come from a region that is part of Georgia...
It's even more complicated than that. My ancestors came from the city of Erzurum, which is now in eastern Turkey, but for us it is "Western Armenia" because it is historically Armenian territory. Then my family moved to Georgia, to the largest Armenian enclave of Javakheti. I still have relatives there – my maternal grandparents live there and my father came from there. I also spent my childhood there and have a deep connection to the country.
Armenia within its present borders is a relatively small country, but historical Armenia was much larger. So I assume that Armenian folklore will also have different variations according to each region. Is that right?
Yes, the music of different regions of historical Armenia is diverse. Different dances were danced in Javakheti, others in Erzurum in Western Armenia. We draw on the great cultural heritage from all over the territory of historical Armenia that previous generations have left us, and we are today trying to pass on this heritage. I recorded a song for the album Shoror which is a dance tune straight from the Javakheti region. As I said before, each region had its own dances, its own melodies, its own dialect, different influences were reflected. That's what I tried to show everyone on the album. It's very important to me.
Do we find elements of the folklore of neighbouring countries in Armenian music?
Yes, the music of the neighbouring countries influenced the Armenian music, of course. For example, it was influenced by Iranian music. If I meet an Iranian or Turkish musician today, chances are he or she will like Armenian music. Similarly, when I hear a Turkish instrument like the bağlama or saz, it speaks to me. It is natural that we share our music with each other. They are neighbouring countries, we influence each other, we learn from each other. That's how it works.
One of your activities is the international trio A.G.A., with whom you released an album last year. On what principle does it work?
A.G.A. stands for "Armenia – Georgia – Anatolia". With this group we play Anatolian, Armenian and Georgian music, so it is a beautiful example of this mutual sharing. But I am not only influenced by the music of neighbouring nations. Western music is also important to me, Scandinavian or Celtic music appeals to me. Even if such music has nothing to do with my roots, it touches my heart and moves me.
For your solo album Hokin Janapar you have invited several musical guests, often with very interesting instruments. What was your basis for choosing accompaniment?
When the duduk is used as a solo instrument, it is usually a good idea to have another instrument accompany it. In Armenian classical music, it is often a second duduk that plays only one bass note, the so-called drone. This form is then accompanied by rhythmic percussion. This is how I recorded some of the songs on my album. And then I used another form, which is a combination of duduk, percussion, santur cimbalom and zither called qanun, which is actually my Arsen Petrosyan Quartet that I founded three years ago. I wanted to introduce it on my album as well. I like this combination of Eastern instruments such as santur and qanun with Armenian classical music. When I speak of "classical" music, by the way, I don't mean European classical music, but truly Armenian classical music. Besides all that, I also have a harp on the album. I sometimes perform with the accompaniment of this instrument and I like the sound of the harp. The combination of harp and duduk is soothing and the two colours go beautifully together.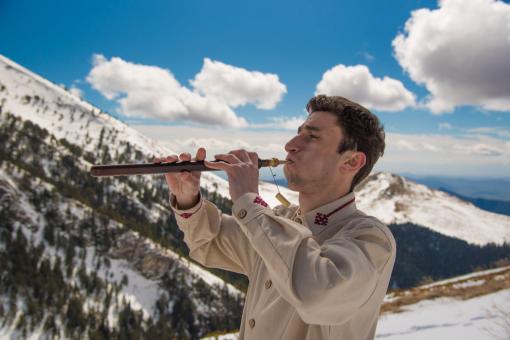 Last autumn, when you were working on your album, war broke out between Armenia and Azerbaijan in Nagorno-Karabakh. Did it influence the shape of the recording in any way?
Unfortunately, this terrible war broke out while we were working on the post-production of the album. The recording was already done. It was a real shock for me as an artist and a sensitive person. My country was in a terrible situation and we ourselves in the studio didn't know what was going to happen next. It was a difficult time, but – as I write in the booklet – my album shows the culture of a nation that despite all the disasters lives on and has something to offer the world. I'm glad that my team managed to finish the album. I couldn't concentrate on work myself at that time. I would not wish such a thing on any nation or any people. So I really see the album as a manifesto that Armenian culture lives on.