The newly built church in Brno Lesná suburb provided inspiration for the flautist Martina Komínková for her album Resonance. The CD cover art features photos of the church ceiling, which glitters with all the colours of the rainbow. The album itself is colourful in a similar way; the musician uses several different types of flute on it.
Martina, you are a flautist, but in my view the important thing is that you specialise above all in recorders.
Yes, I studied recorder at universities and colleges abroad, specifically in Cracow, Hamburg and Linz. It was a great experience that I still recall and thanks to that I keep in touch with colleagues from all around the world. At present, you cannot get a degree in recorder at a music academy in the Czech Republic. I do believe that this will change soon. Before that, I also studied transverse flute at the conservatory and nowadays I combine both of them. That is why on the new CD Resonance I use both transverse flutes and recorders.
What does your "flute armoury" look like in a normal concert?
I have just counted them recently, honestly, one by one. At the latest concerts, I used about twelve flutes. One of my favourites is the Renaissance tenor flute, which is also pictured on the cover of the new CD. It has a peculiar open sound, very similar to human voice, and I use it not only for Renaissance music, but also for my own minimalist compositions. As a brand new one, I have a very special Paetzold bass flute, which has not a round, but rather a square cross-section. It has very rich sound options, including the fact that it is easy to hear the sound of its keys. Other effects, for example percussive, can be created using the mouthpiece when striking a tone. It is used and it is really suitable for modern music. I bought it in June and I haven't even fully paid for it yet.
The cover art of the new album also features a photograph of the ceiling of the completely new church in Brno-Lesná, and I know that this church is related to the story of the album.
Yes, the story started this year on 2 January, when I went to Lesná with the architect of the church, Marek Jan Štěpán. He is almost my neighbour, as we both live in the same village in the outskirts of Brno. He told me about the exceptionally prolonged acoustics of the church, about there being almost an acoustic overpressure. I wanted to try it out, so I went there with several flutes and a vocal effect processor. I played there, we recorded something and I used the recording from the beginning of January as a bonus on the CD. The other tracks were also inspired by this first visit. It was exceptional to play in such a space. The reverberation lasted up to eight seconds, the sound seemed to be never ending, and a trembling echo naturally formed in that space. I usually use this effect artificially, but hearing it in natura was something completely different. The acoustics of the church were then adjusted very soon, and now the reverberation is much shorter, corresponding to the spoken word.
In what other sense is that space special for you? Is the appearance of the church of any importance to you?
It is interesting for a lot of things, but above all it is unbelievably beautiful for me. It is a downright touch of beauty! When you enter and take a look upwards, you will see a colourful rainbow ceiling, which is created by the reflection of the glass that is located on the ledge. The purity of the space, the use of concrete as a material, all this opens up space for me so that I can make music float, fly and swim. This may not happen in any other place.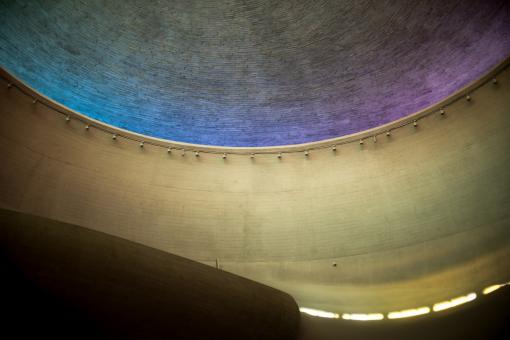 I know that besides the church in Lesná, you were also inspired by another building by the architect Marek Jan Štěpán – a church in Sazovice near Zlín.
Yes, I was there for the first time in 2018 and had the opportunity to see it before the church opened. And I also played there. The CD includes three compositions with organ accompaniment, which were composed and played in Sazovice. Another friend of mine, graphic artist and organist Petr Štěpán, plays the organ.
Some compositions on the album have their names, while others are called Resonance 1, 2, 3…
Some of those "self-standing" tracks had been written before, but with Resonance it is not just a number. It is important that in everything that is called Resonance I build on that particular motif, which I played on 2 January in the church in Brno Lesná, and then I processed it in a different manner each time. It sounds completely different on the transverse flute, completely different on the bass flute, it sounds differently in the background, and again differently as a melodic line.
For a long time, as a flutist and teacher, you dedicated yourself only to music of other composers. When did you start trying to create music on your own?
My own creation came up approximately in the last three years, but it was preceded by work with improvisation, which I had been interested in for a long time. In fact, at the age of fifteen, I improvised on the transverse flute. Nowadays, I do not consider myself a composer, but rather a flautist who also devotes herself to her own creative work. I do not know if what I'm creating are compositions in the very sense of the word, because there is always room for improvisation.
What do you build your improvisation on? Melodic motifs? Or are you inspired by the sound of a space, for example?
I certainly build on melodic or rhythmic motifs. I do not even know how it comes to me, but lately I have been working a lot with the loops I'm recording. So I need to have an idea that I capture, and then it is easy to improvise on it.
When a flautist as a melodic instrument player wants to create a melody, he or she usually does so within a flute ensemble or another formation. But you are actually an ensemble for yourself.
I developed this largely only this year during the covid lockdown, when I was sitting at home and practicing for a new solo programme, which I now perform mainly at home concerts. It includes about three things that I played with my Flautas de Colores quartet and now I am able to play them myself. These are pieces by other composers as well. Concerning my own work, I usually record the layers one on top of another – the basic voice, the second and sometimes the third, sometimes more rhythmic, sometimes more melodic, and I improvise on top of that all. At concerts, I play both compositions by other authors as well as my own. I am now in the stage of searching for my own musical language and the CD Resonance is the first example of the direction in which I am heading as regards my creative work.
Do you think that teh album will have a sequel after some time?
At first I thought it would be only a one-off activity. It is supposed to be a musical response to that beautiful architectural space, but during the time I was creating it, I thought that I would want to elaborate on the topic further. I can imagine that in a while I will start working on the album Resonance 2, which, for example, can work with another feature of the church, such as colours or another theme.
Would you still count on the space inside the church in Brno-Lesná?
Lesná is so vigorous for me that I would like to get back in there. I will want to continue working with it, but I also like to come to any space in general and create something there. By that I mean modern churches in particular. When I played in Sazovice for the first time, I thought I would like to do an entire series like that. I will go somewhere and create an improvisational composition or a music video. But even such a music video clip has its cost, so it is also a matter of money.
Are you not interested in old churches? For example, the drummer Pavel Fajt recorded his album Souhvězdí Santini (Santini Constellation) in 2008 inside buildings constructed by Giovanni Battista Santini-Aichel.
I would like to listen to that album; it is interesting for me to have a kindred spirit. I recently performed in Brno in St. James' Church, where we launched an exhibition on the anniversary of Chiara Lubich, the founder of the Focolare movement. I also played my pieces there and they sounded beautiful. So I do not exclude older churches either.
You said you have not paid up for your new bass flute yet. How does this work for you? Do you have any sponsors?
I'm looking for them. I'm in acute need of patrons or sponsors who like what I'm doing. I make effort to create something original that has its value and depth, something that might, for example, bring people peace of mind or in a way raise them up when they feel down. Now I have to give classes every day just to make money and be able to sponsor these things by myself. I have already reached the point where I sell flutes that I no longer use at concerts so that I can buy new ones. I cannot in fact make tens of thousands crowns for a new flute from concerts alone. Anyway, I do believe that there is a solution and resources will be found. I am basically a creator and I see how many ideas I have, so I would love to do a lot more creative work than I do at present.
Do you use classical or rather experimental methods in teaching?
I am now starting my twentieth season of teaching, and I still enjoy it a lot. I am trying to innovate, and I have to admit that we are mostly close friends among recorder players. I started teaching very early, when I was still at the conservatory. I teach at the Vítězslava Kaprálová Primary Art School in Brno and also at the Brno Conservatory, where I also teach improvisation. On top of that, I teach improvisation to children in summer courses. For example, I let children and older students play with a looper and other effects, and I know that they are really able to be creative. I plan to expand improvisation more into my teaching at all levels, and that is why I teach it in accredited courses.