Spontaneous joy of dancing is hiding behind the mysterious cry Šej-Haj-Hop! That is why the new school of Slovak folk dance in Brno chose it as its name. There are three friends behind it – Michal Janšto, Edita Borščová and Ondrej Mišík, who all met a few years ago at VSĽPT Poľana.
On Monday, the Na Šelepce club hosted the first ever Tanečný dom [Dance House] event under their baton. Dance Houses are a very popular form of dancing classes in Slovakia and Hungary (called Táncház), where they are held regularly and attended by a huge number of dance couples. They became popular especially for people who, due to time or other restrictions, cannot attend folk groups but who love dancing; they are also intended for members of ensembles who want to learn dances from new regions. Alternatively, this event is also suitable for complete beginners or retired group members who do not yet plan to hang up their dance shoes. Exactly this composition of participants came to Na Šelepce and completely filled the dance floor. They learned dances from Eastern Slovakia from the villages of Zámutov and Dlhé Klčovo. Thanks to this varied composition, dance houses are a much more natural form of passing folk tradition than stage performances and closed groups of folklore ensembles.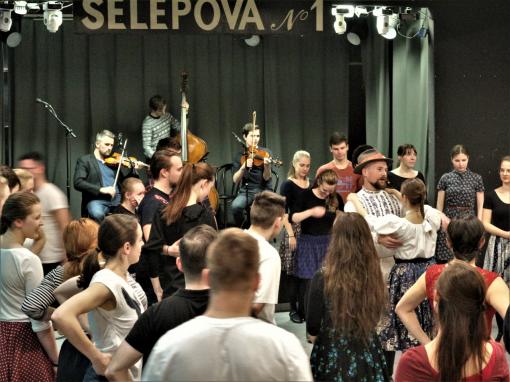 Šej-Haj-Hop members come from different parts of Slovakia and have rich dancing experience. Edita Borščová comes from Prešov and went through the folk groups Rozmarija and Hornád. Michal Janšto is from the border village of Košariská and attended the Brezová ensemble as a dancer, but he also continued in the musical tradition of the family. Ondrej Mišík comes from Trenčín and went through the children's ensemble Kornička and two other groups – Trenčan and Nadšenci. Their paths converged during university studies in Brno, where they wanted to continue dancing. They chose the Vysokoškolský soubor lidových písní a tanců Poľana [Poľana University Ensemble of Folk Songs and Dances], where three years ago they had the opportunity to devote themselves to preparing newcomers and beginners. It was this experience that eventually led them to found their school. As they say: "Thanks to it, we realized that although there were many folklore groups in Brno, there was a lack of opportunities for a layman to start doing folklore. People often said that they were interested in folklore and would like to give it a try... An ensemble always represents quite a big commitment and often does not have the space to work beginners. This was our impulse to establish Slovak folk dance courses. "
The first Dance House was certainly an encouraging start not only for lecturers but also for potential visitors. The dancing was moreover accompanied by a high-quality music trio headed by Martin Janšto, brother of one of the lecturers. The environment of the Na Šelepce hall was reminiscent of a folk festivity in the countryside, which hardly anyone would expect near the Brno centre. This also contributed to the atmosphere that one likes to get back to.
I wish the new Šej-Haj-Hop school a lot of success. I hope that they will be able to awaken the tradition of similar dance workshops in the Czech Republic to a greater extent.