Ód ... The artistic name evokes singing, narration, poetry, odes… It is also a guide to pronounce the first name in Czech of the protagonist, a French singer settled in Brno, Aude Stulírová Martin. She has been living in Moravia for ten years and is an excellent Czech speaker. In that time she has co-founded a band called Šarivary as well as the theatre company of Le Cabaret Nomade. She was also active as an artistic director of the Bonjour Brno festival. Bébé Lune is her current, second album – a collection of lullabies from around the world, it was created by Ód as a result of her winning Expats for Brno, a competition seeking innovative projects. So, while the project is international in its content, it is very closely related to Brno.
The singer alone has tried to use a few sentences to summarise why she is fascinated by songs that mothers sing to their children to sleep well at night: "After 30 years I heard again the lullaby my mum sang to me when small; I got goosebumps and was moved. I realised how profoundly a little thing like a song could imprint onto one's soul." She chose eighteen short songs from all around the world for her album: the longest one lasts just under two and a half minutes, while the shortest is only 20 seconds long. The Czech audience will be familiar not only to those that can we think of as "ours", such as Halí, belí or Spi, děťátko, spi, but also to the Native American Ho ho watanay, as fans of tramping songs and beyond will know since Pavel Žalman Lohonka performed it. But many other, often exotic songs are worthy of attention and might just get listeners humming. Among the most powerful yet the most fragile are the Romanian opening track Ciobănaş cu trei sute de oi, about a shepherd with three hundred sheep, a Jewish one called Numi Numi, a Swedish ditty Klättermusens vagvissa and the French title track about baby Moon Bébé Lune, accompanied by an African mbira.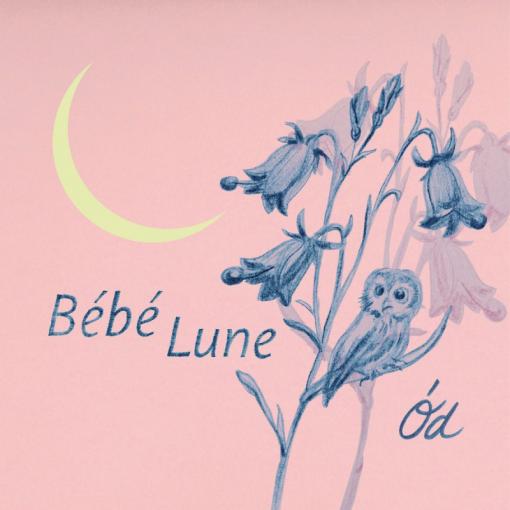 Although lullabies are literally intended for singing from mouth to ear without the accompaniment of musical instruments., Ód slightly colours her versions with interesting, mild sounds. Often, it is just a gentle sound of ringing, bubbling and lilting, elicited by a mbira, xylophone, balalaika, electric piano or flute. The accompaniment is usually very soft and minimal. The gamut of colour and the harmony, both are made up of voices in double or triple harmony, of Ód's multitracked voice or those of the guest artists Beata Bocek or Marie Svobodová. The only other person to appear is a friend of Aude's from the Šarivary band – guitarist Chris Martin – who has recorded guitar on two tracks. All the other instruments were performed by Ód herself.
Ód has successfully created a tight album showing the literal beauty of a female voice, which is diverse in approach and mood even though the pace is usually slow. It is not just about the different languages used, the sounds of the words and their natural melodiousness. Indeed, it is also a matter adding rhythm. Even a lullaby can be a relatively rhythmic song, such as the Algerian Ars-d, ars-d ay ides or Mexican Campanita, alongside careful use of a cappella passages and more rich arrangements. In fact, if it were not full of lullabies, one would say that this 30-minute album does not encourage slumber.
Ód – Bébé Lune; private pressing, 2020 (distribution: Indies Scope), 18 tracks, songs, total track length 29:57