In the summer months Špilberk Castle's courtyard often resounds to the sound of music. Until September it is possible to combine a tour of the castle with a cultural experience. The organizers have tried to prepare a programme across genres that has something for everyone. Yesterday it was the turn of folk music. Despite the adverse weather the stage was dominated by the Military Art Ensemble Ondráš.
Ondráš is the only professional folk ensemble in the country and currently has around a hundred members. In addition, professional dancers and musicians also have an amateur component and women's choir. At Wednesday's concert, which was called Ondráš' Pilgrimage, all of these were introduced. This year the ensemble celebrates its 65th birthday. However, as was seen during performances, it is certainly still a force to be reckoned with.
However, the concert was interrupted at the outset. The reason was the departure of long-time artistic director Čestmír Komárek into retirement. Komárek has worked in Ondráš for more than four decades and is indelibly etched into domestic folk awareness. All components of the ensemble prepared for him congratulations in a lovely and elegant way complement the evening programme and got listeners to give a standing ovation even before the start of the programme.
The concert was made up of singing, dancing and musical numbers from regions of the Czech Republic and Slovakia. Traditionally Ondráš produced very high quality and precise choreography from the Czech regions and this performance was no exception. The choreography of Jan Tkáč was well received by the audience. There had to be a dance from Slovakia, which are due to its spontaneity was very successful. Marian Friedl and Jiří Slavík, who have genuine folk souls but are also leading Czech jazz musicians, participated in several musical numbers. The songs in their adjustments were therefore a treat for musicians and lay ears.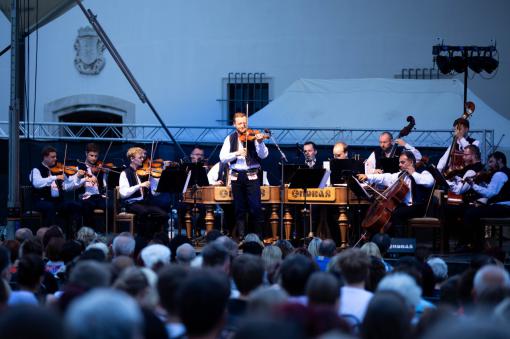 Also a pleasure was something older from the female choir with the name Dievčence as arranged by the former Ondráš first violinist Lubomír Graffe. The song, with the raw style of the Kopanice region, had enormous energy, which in my opinion was perceived by both performers and listeners.
The second half of the programme, unfortunately was covered by black storm clouds and accompanied by the ominous sounds of the approaching storm. Even so many fans stayed and enjoyed the concert to the end. That was a clear demonstration that Ondráš still appeals to listeners and is still an ensemble full of life and vigour, even if now approaching seventy...