On Friday, 29 July, at the Folk Holidays in Náměšt' nad Oslavou, the group L'Alba from Corsica will perform, combining traditional Mediterranean polyphony with the music of many nations, not only from southern Europe. Its album A Principiu, released last March, was voted by the World Music Charts Europe jury as the sixth best album from around the world in 2021. guitarist and vocalist Ghjuvanfrancescu Mattei answers our questions on behalf of L'Alba.
You are not a purely vocal group, but traditional Corsican polyphony plays a significant role in your music. How important is this tradition to you?
Polyphony is central to our work. We work on each of our songs with an emphasis on polyphony. It's the basis of how we think about music. In addition, we take into account other influences that are related to Corsica's position within the Mediterranean environment. By the way, Corsica is in the middle of the Mediterranean. So we start from polyphony and add to that a whole range of musical instruments. This gives our band a characteristic color. During our concerts we usually play four purely vocal pieces, but it's not just polyphony, we also use monody. However, you could say that we have come out of the polyphonic tradition to create new music with instrumental accompaniment.
And so can't it be seen that the individual instruments are actually voices in your polyphony as well?
That's a very good question. When we create songs, we consider every single element that contributes to the overall atmosphere. Instruments are commonly used to accompany the words and voices, but it can also be exactly the opposite. So we try to write songs that create a pleasant atmosphere and invite the listener on a journey. A journey that starts in Corsica and goes all over the world, but still from the perspective of the Corsicans.
Corsica is in the middle of the Mediterranean. So how would you describe Mediterranean music from your perspective? Do the musical traditions of the different Mediterranean nations have anything in common?
We can't speak for the other Mediterranean nations. But when we look at the way Corsica sings, we see the whole of the Mediterranean, in fact. Rather than borrowing something foreign, we are trying to shed light on what we have in common. Of course, some regions are closer to us – North Africa or Italy, for example. And then there are areas that are further away. But we try to put emphasis on what unites the whole of the Mediterranean, including through music.
You sing in Corsican, but fortunately the booklet of your album contains translations of the lyrics into French and English. What are your favorite themes?
With our lyrics it's similar to music. Our lyrics deal with themes related to everyday life, similar to folk songs. But we also sing about today's problems of society and of course the current problems of the Mediterranean. Generally speaking, our lyrics are about humanity, and we also have love songs or very personal songs. But, as with our music, our lyrics are varied and multi-faceted. On our earlier album A Parulluccia, for example, we dealt with the topic of migrants on the island of Lampedusa. On the new album, an important theme for us is the relationship between man and his multiple identities. In other songs we deal with the issue of consumer society and ecology.
For the album, you invited not only other musicians from Corsica as guests, but also players from other countries. Can you introduce them to us?
Corsica is a small island, there are only 350,000 of us. So we regularly invite our musician friends from Corsica to collaborate with us. The other guests on the album are our friends. Mokhtar Samba is a percussionist. Another guest is Louis Mhlanga, who is a friend of a former member of the band. And we started working with all these guests by playing with them somewhere.
The album A Principiu came out during the coronavirus epidemic. How did that time influence its content?
At the time we released the album, healing was an important theme. In fact, the first song on the album is called Guarisce, which just means "healing". It's like we were trying to anticipate that theme with the album. Otherwise, there is no song directly related to the epidemic, but the crisis revealed certain failures in society. These are failures that we can have as people in general and as Mediterranean people. So, in the future, we will certainly be looking at other topics relating to our interpersonal relationships.
And why is the album called A Principiu?
The word "a principiu" is repeated in the last song of the album, called Stranieru da l'internu. It appears at the beginning of every verse. This phrase means "in the beginning", which is related to what we talked about at the beginning of this interview. On the album we refer to monody and to the simplest three-part polyphony. So we stay rooted in our tradition, even when we try to create new music. We are convinced that in order to do something new, one must know one's roots perfectly. That's why we called the whole album "A principiu", In the beginning.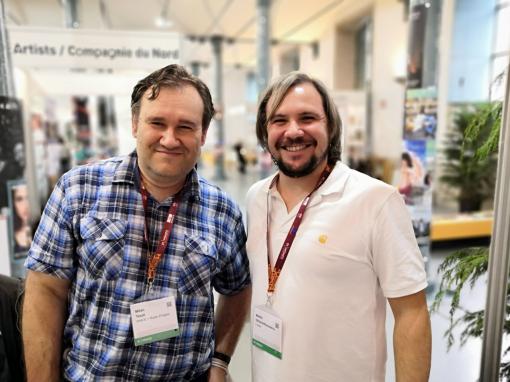 Who do you consider yourself to be above all? Corsican, French, or European?
We are happy to claim this multiple identity. Each of us is part of different cultures, we claim our region and, last but not least, our families. We try to highlight both what makes us different from others and what unites us with others.
Your current album is also out on vinyl. Why did you choose this option?
We agreed with our label to release this album on vinyl as well, because it's a medium that is both old and very contemporary. We know that we have listeners for whom sound quality is important and who don't listen to music online. We know that a lot of people don't have the ability to play CDs anymore. So we released the vinyl not only for our listeners who care about sound quality, but also for those who collect memorabilia and for whom the visual component is important. This is also important to us.