Last year's 100th anniversary of Gustav Brom's birth still resonates on the domestic jazz scene. At the very end of 2021, a 4-CD set entitled "Gustav Brom – 100 Years" was released, offering a cross-section of the orchestra's repertoire, from songwriting to jazz to intersections with contemporary classical music. Alongside this, an album charting the Brom Orchestra's long-standing collaboration with Karel Velebný has also appeared on the same label (Indies Happy Trails). Radio editor, jazz musician, and teacher Jan Dalecký was one of the producers of both albums.
The "Gustav Brom – 100 Years" set was produced together with the publisher Jaromír Kratochvíl. Were you clear from the beginning that you would arrange the recordings thematically and not chronologically?
Yes, we agreed that it would be meaningful for the collection to have a logical order and should cover all types of music that Gustav Brom and his orchestra played, and that it should be mainly "from their own ranks" in terms of composers and players. The arrangement into thematic chapters is better in my opinion. It is done chronologically in most cases, but Gustav Brom was a personality of several faces due to the changeability of the orchestra. After all, there was a vibraphone combo, a modern jazz combo, a Dixieland group, and a full big band all existing side by side.
The entire 4-CD set is framed by two versions of the Gustav Brom Orchestra's Theme Song. The first album then opens with the track "U sta Bromů", recorded in 1991, one of the youngest tracks of the entire collection.
This is a composition by Jaromír Hnilička with a solo by drummer Cyril Zeleňák. Gustav Brom was born in Slovakia and enjoyed a good relationship with Slovak musicians for a long time. Sometime in 1988, when the longest-serving drummer, Václav Skála, was about to retire, Brom rebuilt the rhythm section from Slovak players. It featured Peter Breiner on piano, Stano Herko on bass, and Cyril Zeleňák on drums.
After this piece comes a sharp cut, and the listener finds himself in 1960.
Yes, we tried to present some very historical recordings, and we succeeded in doing just that in the six tracks featuring Edmond Hall, a New Orleans native, a very rare guest in Czechoslovakia in his time and one of the first African-Americans in our country. He made four films with Gustav Brom for Supraphon and six for Brno Radio. We are putting these six recordings together here for the first time. Edmond Hall was a clarinetist and a long-time member of Louis Armstrong's All Stars group, a man truly in the big leagues.
Was there any knowledge of the existence of these recordings?
Two had already been released on previous recordings sometime after 2000, but not much was known about the rest. I knew about them and the archivist who worked with us knew about them, but otherwise it was forgotten. After all, almost none of the orchestra members who accompanied Edmond Hall at the time are alive today.
The Edmond Hall recordings are the exception that proves the rule. After that, the collection really presents mainly the root composers and soloists of the orchestra.
Yes, then comes another 180-degree turn, as Jaromír Hnilička, the longest-serving composer and player of several instruments, enters. His work is not well known and not yet published in this way. So we've tried to present him in a few original compositions, and we're already planning another title which should be published in about a year and which will be devoted only to him. Included here are also very serious works of a cyclic nature, which is not usual in jazz. I would just like to remind you that Jaromír Hnilička was the author of the first Czech jazz mass in the 1960s, which was written in 1969 and banned after several performances before it could be recorded.
The second disc of the set introduces other root composers...
Yes, and at the same time, these are the principal soloists of the orchestra that we so admired. They are – in order of age – baritone saxophonist Josef Audes, trombonist Mojmír Bártek, and pianist, organist and oboist Josef Blaha. However, the orchestra also had other outstanding players. Jan Formánek formed a trombone duo with Mojmír Bártek. Together they won national competitions long before they thought they would play for Gustav Brom. And tenor saxophonist Zdeněk Novák was invaluable in the orchestra. He had the best ear and later turned to a career as a musical director. In the orchestra he was able to coordinate the saxophone section to play in good tuning and breathe together as one. He could arrange very quickly. He was very valuable at a time when a program for a guest soloist needed to be prepared quickly. As a tenor saxophonist he was able to stand up to the American guests as an equal partner. Only he and Josef Blaha could do that.
Who was the most prolific of the orchestra's root composers?
Jaromír Hnilička wrote at least two hundred compositions for the orchestra. Josef Audes and Josef Blaha composed about sixty each, but Mojmír Bártek composed far more than them. To this day he is the greatest composer, and his compositional zeal is evidenced by the fact that at the time when he was already an established soloist and composer, he still studied composition at the Janáček Academy. As an adult, he studied the subject, became terribly interested in composition and began to write challenging compositions, like Jaromír Hnilička before him. I coined the nickname "Brno Mozart" for Mojmír for the frequency of his works and the ease with which he composes.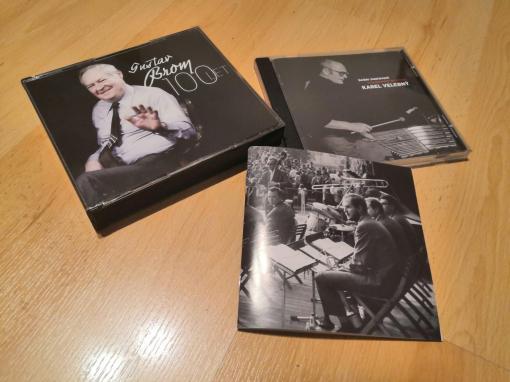 The Gustav Brom Orchestra's significance went far beyond the borders of our country. Which period was the most significant in this respect?
In my opinion, it was from the arrival of Josef Blaha in 1965 and it ended with his untimely death in 1973, when he was the only victim of the only crash of a Brom bus in 55 years.
As the 1970s progressed, had normalization already intervened in the life of the orchestra?
Mainly the opportunities for pure jazz programs were diminishing. Gustav Brom was a private entrepreneur, and his orchestra had to make a living. He wasn't connected to radio or the theater and had to really find work for his thirteen people and for guest singers. So he had to accept lighter songs into the repertoire, which were only a seasonal thing.
The third disc of the collection features other names we haven't mentioned yet.
Among the orchestra's players, there is another group of composers who, though not as prolific, also left behind some interesting pieces. These were, for example, bassist Jan Hubáček, pianist Milan Vidlák, and saxophonist Miloslav Petr. They all contributed valuable jazz compositions to the repertoire. By the way, I was pleased to have the opportunity to consult with some of the still living members of the orchestra. In particular, Milan Vidlák himself chose the 1975 composition "Kdyby", in which he plays Hammond organ and maybe even some synthesizer.
How did the Brom Orchestra actually use synthesizers?
From today's point of view it's nothing miraculous, but we have to remember that we're talking about recordings that are more than 30 years old. Gustav Brom's orchestra had the advantage of having acquired a Hammond organ as a gift in connection with a guest appearance by the Swiss singer Sonja Salvis, whose husband was a wealthy businessman. This was no small thing; even today the instrument costs around three quarters of a million. And it fell into their laps just for making a record with this singer. Otherwise, synthesizers are just ancillary devices that mustn't dominate the sound. They have to add color. Once it turns into a solo instrument, it kills the music.
Let's go back to the third CD of the collection. Its second half is again different in genre.
Yes, it shows us that Gustav Brom didn't shy away from what was happening in classical music. At the time, Brno was an important center of contemporary composition. There was the creative "Group A" headed by Josef Berg. Important composers were Miloš Štědroň, Arnošt Parsch, and Pavel Blatný, and they are represented by the third CD of our collection. We've added Alexey Fried, who, although he soon left for Prague, never lost touch with Brno and Gustav Brom and wrote a number of very substantial long and demanding compositions in the 1970s and 1980s.
Disc 4 contains both recordings of the orchestra's Prague guests, such as Karel Velebný, Josef Vejvoda, Emil Viklický, Karel Růžička, and Per Kořínek, as well as recordings with the singers. Here we come to one exception. While the whole set of 4 CDs contains recordings from Brno radio, only the song Už jedou vozy s bílou slámou with Jiří Štědron on vocals was released on Supraphon. Why did you include it?
Jiří Štědroň was overlooked and even discriminated against for many years. He made dozens of recordings for Brno Radio and they disappeared somewhere. There was only one left, and it didn't fit into our selection. So that's really the only recording where we reached into the Supraphon archive.
One of the aforementioned Prague guests of the orchestra was Karel Velebný. You came back to him later on a separately released CD Karel Velebný – Seven Stops with Gustav Brom. What can we find on this album?
This is a very rare collection made up of individual pieces that took place in 1969-81. Karel Velebný would come to Brno once in a while with scores and a vibraphone. On each of these visits the orchestra played two of his compositions, arranged to his specifications. It should be mentioned here that the Gustav Brom Orchestra was a so-called economic or medium big band. It didn't have five saxophones, four trombones, and four trumpets, but there was one less player in each section. Karel Velebný always recorded two of his compositions with the orchestra, which happened seven times in total. Fourteen compositions were created in this way. Then there are four more, which he composed for the Bromo Orchestra, but he is no longer a soloist in them. These are compositions that he sent, and the orchestra recorded them in their normal scoring, i.e. without vibraphone. All of this together forms a totally consistent and complete collection that has never appeared together in this form before.