Noam Vazana, performing under the name Nani, is an Israeli singer who performs songs in the Jewish language Ladino. For her 2017 album "Andalusian Brew", she collected folk songs, some of which she heard as a child from her grandmother. In 2021, she recorded her first original album of songs in Ladino, entitled "Ke Haber". In autumn 2022, she performed in Brno at the Music Lab club in a duo with Brno percussionist Jakub Škrha. The following interview was conducted before the concert.
You come from Israel, you live in the Netherlands, but you sing in Ladino, which sounds like a dialect of Spanish. It's the centuries-old language of the Sephardic Jews and also the language of your childhood memories. But it's not your mother tongue. What language did you speak at home when you were a child?
We spoke Hebrew at home. My father fled Morocco at a young age after an attack on the school he was attending. He came to Israel as a refugee. He forbade us to speak Ladino or Moroccan Arabic at home because he wanted to forget his past and what had happened to him. That's why we spoke Hebrew at home.
So when and how did you come across Ladino?
Ladino is actually a dialect of Spanish, but an old one. It is a language that travelled the world with the Spanish and Portuguese Jews who were expelled from the Iberian Peninsula in the time of Christopher Columbus. They scattered all over the world, and some of them ended up in Morocco. My grandmother, who spoke the language, came from Morocco. I was in contact with her but, as I say, my father forbade me to speak Ladino at home. So when I was a child, I associated Ladino mainly with songs about cooking. In fact, I usually spent time with my grandmother around lunchtime when I helped her cook. And she would sing songs, often about food.
Do you also sing about food in Ladino?
Yes, I do. I have three songs about cooking in my concert programme, one of which contains seven different recipes on how to cook eggplant. I have two songs about food in Ladino on the first album, but none on the second.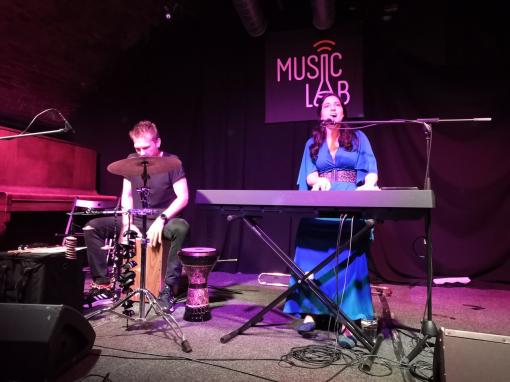 The second album is called Ke Haber and contains your original songs in Ladino. Can we find any recurring themes on it?
In the tradition of Ladino songs, the female issue is important. Specifically, the relationship between mother and daughter is considered the strongest friendship. For example, my song No Kiero Madre depicts a dialogue between a mother and daughter talking about potential wives. Among a segment of the Jewish population, the tradition of marriages arranged in advance by parents still exists. I do not identify with this custom. In my case too, there were some attempts, but it didn't work out. In this song, the mother gradually tells her daughter, "You should marry this one because he's rich. And this one is tall. And this one's jealous, so he'll be faithful to you." The daughter rejects all these offers and falls in love with the drunk, who is called "borracho".
In general, the lyrics on the album are a combination of what I feel and what I think is interesting. But it also happened that during my research I found old lyrics that actually contained topics that I would like to write about today. Specifically, this is the song Sin Dingun Hijo Varon, which is very interesting because it's about transgender transition. It's an old text from the 11th century on a subject that we might think we invented today and that is very progressive. But it's something that people have been thinking about for a long time. After all, the question of gender in different languages is very complicated. There are, for example, Indian languages that work with seven genders. In the song Sin Dingun Hijo Varon there are three main characters – mother, father and daughter. At the beginning, a man blames his wife for disappointing him because she has not given him any son. She has only given birth to seven daughters and that is not enough for him. The mother apologizes, and a chorus of the seven daughters echoes from the background, saying that they will do their best to make the father happy. But then one of the daughters comes in and says, "You know I've always felt like a boy. So I will be the son you never had." The father does not accept this and disowns her, but the mother defies him and says, "You will not drive my daughter out of the house." And at the very end he tells her, "I accept you as my son." – When I read this old text, I knew immediately that I had to write music for it.
What is the point of writing and singing songs in an old language that very few people speak in the world today? Who do you want to reach in particular?
My aim is not to reach out to the community of people who know Ladino and see it as something nostalgic. Rather, I would like to target young people who are searching for their roots. After all, you can see at my concerts that my audience can be divided into two groups. Approximately half of the audience is made up of people who are sixty years old or older and who spoke Ladino at home as children. But a good half of the audience is made up of people aged 18-25 who are searching for their own roots. And I think that's amazing. For one thing, I'm getting in touch with a generation that I don't otherwise know at all. And secondly, I'm on a similar level to them in finding my personal roots, because I've only recently rediscovered Ladino for myself. So I try to write songs that are relevant to today.
After the expulsion from the Iberian Peninsula, the Jews dispersed over a large area of the Mediterranean. With this, Ladino also diversified into several dialects. Did you deal with this problem when writing the texts?
Of course, we don't know what Ladino sounded like centuries ago, but it is said to be one of the oldest languages that has survived without much change. It is close to Chilean Spanish, for example. On the other hand, Ladino has been spoken in many countries. When the Jews were expelled from what is now Spain, they went to the Balkans and other parts of the Ottoman Empire, later some ended up in the United States or Canada, and many also lived in North Africa. And each of these regions had its own dialect. So on my album you will also find different dialects. For example, the song Cok Seni Severim is sung in Turkish dialect, Landarico in Portuguese dialect, No Tiene Hija, No Tiene Amiga in Spanish... On my previous album Andalusian Brew I had a song Durme Durme in Bulgarian dialect.
While folk songs from the Sephardic tradition such as Morenica or Cuando el rey Nimrod are quite well known, your concept of writing original compositions in this language is unique. Are there any special rules for writing in Ladino? Or are you free as an author?
I think I'm generally a very free person, for which I apologize to all traditionalists. But at the very beginning I wasn't too sure about the grammatical structure of the language. I took some classes in Leyden in the Netherlands, but it wasn't enough to write really good texts. So I researched in old lyrics and tried to fit the grammatical structure of my new songs to these old songs. You have to learn the correct grammar, put the verb in the right place, for example, and so on. So it was kind of a puzzle.
You accompany yourself on the piano, and you also play the trombone. During your Czech tour you collaborated with jazz musicians Emil Viklicky and Petr Dvorsky, while in Brno you invited Jakub Škrha on percussion. So how do you choose the arrangements for your songs?
I think I just feel it... It's strange to say, but ideas for songs come to me on their own. It's not like I sit in my room and think: I'm gonna come up with something. In that case, it wouldn't be good. So I suppose I have some unwritten agreement with inspiration that visits me from time to time. I was on the train this morning and I was on the phone with a good friend of mine. She was telling me about some of her new projects for singers and I gave her some advice that came to mind. And she says to me: You could make a living giving people advice. But it's true. I get, like, 40 interesting ideas a day, and then I just think about which ones might really work for me and which ones are most in tune with my feelings. And if you put your heart into something, it will work.
On the album "Ke Haber" you included one song by Sting, Shape of My Heart. What does Sting have to do with Jewish songs in Ladino?
The first time I heard Sting's Shape of My Heart, I was just a kid. I was watching the movie Leon on TV, and the song was playing during the end credits. I liked it immediately, even though I didn't speak English at the time. Many years later I was performing with an Israeli double bass player and we were looking for a song to arrange together – just for vocals, trombone, and double bass. And this song came to mind. Next to it I put my own Mi Korazon, My Heart, which has a very similar theme. My song is about happiness and how we chase it. And that we feel happiness especially when we create something new. It fit perfectly with Sting's song, so I connected the two.
In the autumn you released a very interesting music video for the song Una Segunda Piel. What's the story behind it?
In Sephardic tradition, when a person reaches retirement age, he invites his friends and relatives to join him, and they cover him with the shroud of the dead during a great feast. It sounds morbid like that, but it's a beautiful image of sitting at a table, wrapped in cloth, and reflecting on your life so far. Then you take off the shroud, which is a symbol of rebirth. You begin to live again, as it were, without any worries, without financial problems, without quarrels with the neighbours, without ungrateful grandchildren. It's like you're leaving all that behind. I'm kind of imitating that tradition in this video clip. There's a beautiful animation – the flowers that weave around me. It's a very nice video, check it out.
What do you plan to do next? Will you write more songs in Ladino? Or will you explore other areas?
I'm open to new things. Actually, I'm already working on a few new projects, but I don't want to talk too much about them yet. But I believe I will surprise my fans in many countries. We have something coming up in Scotland and something here in the Czech Republic. I want to come back here again in May. I have something coming up in the United States. And in the meantime, I'll be touring. I've got almost forty gigs lined up for 2023 – you can find specific dates and venues on my website. I will continue to focus on Ladino songs, and I'm also preparing a tribute to Nina Simone, whose songs I love very much. We've already done this programme since 2018, but in 2023 we will be commemorating what would have been her 90th birthday and also twenty years since her death. That's why we will be performing more with this project than in previous years.