The Slunce [Sun] Festival in Strážnice will be held for the twentieth time this year. Especially lovers of folk music and classical big beat have marked the dates of 12th and 13th July in their calendars. We talked to the director of the Slunce Festival Pavel Kopřiva about the history of the festival, its top moments and hardships, as well as what this year's festival season will be like.
The Slunce Festival will be held for the twentieth time this year. In what has it changed the most over those twenty years?
For the first three years I organised the festival together with Zdeněk Vřešťál. At that time we conceived it as a Czech-Slovak festival. It was very multi-genre and we invited quite a relatively high number of performers from Slovakia. However, the concept gradually changed over the years and in recent years the festival has profiled itself as a folk-country on the first of its two days is, while the next day it is focused on folk-rock and rock. And because most visitors are lovers of good music regardless of genre, they come in for both days. (laughter)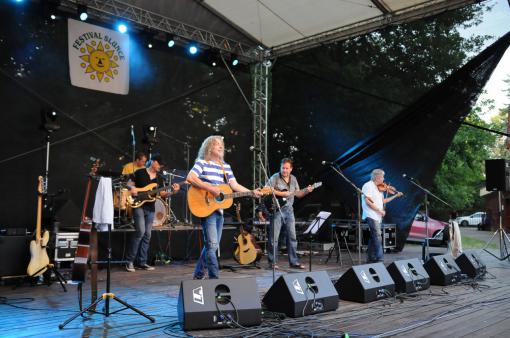 You had had organising experience even before the founding of the Slunce Festival, you were a dramaturge of Folk Holidays in Náměšť nad Oslavou. How did you get the idea of ​​returning folk and related genres to Strážnice in 2000, where the Zahrada [Garden] Festival had been last held in 1997? Did you see those grounds as a "vacant lot", an empty space in the market?
It seemed to me it was a shame that the grounds were so underused. It looked the same to Honza Souček, former director of the Ústav lidové kultury [Folk Culture Institute] in Strážnice, who was my long-time friend and peer – in Brno he was the director of an agency that represented our band. He somehow "washed the way" for me over there. In fact, this year's jubilee season is dedicated to Honza Souček who left us five years ago.
Is this year's twentieth festival season any special?
I have invited especially those musicians who had played on this festival several times and who I know I will be feeling good with them. These include the group Nezmaři, Robert Křesťan with his Druhá tráva [The Second Grass], Jaroslav Samson Lenk, who will perform with his Parta band and will also be the presenter on both days, and Pavlína Jíšová. She has recently recorded a joint album with the blues-oriented Petr Kalandra Memory Band and will also perform at the festival with them. I think the combination of this genre and Pavlína's voice is very interesting. A relatively new name "on the market" is Pokáč. I was impressed by their fresh music and excellent lyrics and how they can work with the audience. Last year he was with us at the festival for the first time and I was surprised at how he caught even the attention of listeners who obviously didn't know him. I also like the group Epydemye. They recently proved to belong in the top of Czech folk.
This was about the Friday programme. On Saturday, there will be Ivan Hlas Trio, your home band Folk Team, Roman Dragoun with Michal Žáček, Laura a její tygři [Laura and Her Tigers] and also Václav Neckář with the group Bacily.
We all have the songs of Václav Neckář under the skin. I recently saw a TV show in which various young singers sang Neckář's hits, and I realised what the gemstones they actually are. He gave a sold out concert in Brno and people sang all the songs along with him. I personally like Václav Neckář very much. I take him not only as a singer, but also as an excellent actor who never betrayed himself for anything. Everything he ever did was tasteful, and his brother Jan has kept the band at an excellent level all the time.
Jaroslav Wykrent has also appeared at festivals recently, but for many he is an author rather than a performer. He will also appear in Strážnice.
Recently, people may have realised how great a copywriter of lyrics he is. He collaborated a lot with Marie Rottrová as well as big beat musicians. We also played one of his songs with our VKV trio. However, Jaroslav Wykrent is also an excellent singer accompanied by a great band. I really wish him all the best. During his concert one realises how great a personality he is.
To what extent do you count on visitor expectations and how much do you choose according to your own taste when creating the dramaturgy?
People who go to the festival often come back several times and trust me it will be good. They buy tickets in advance, even if they don't know yet what will be on. I try to design the first day for those who like folk and related genres. But today I myself incline more to folk-rock or to classical big beat, so on the second day I do more for my own taste. Generally speaking, however, I invite musicians who I love and appreciate a lot.
Is the festival visited nowadays more by people who are nostalgic of old times, or can names such as Jaroslav Wykrent and Václav Neckář catch the attention of younger audiences as well?
In my opinion, the audience is aging with artists. They are fans who attended the shows of these singers and bands in their youth. On the other hand, there are quite a lot of young people coming to us and for example last year I was surprised at how many people seemed to come especially because of Pokáč. So it is balanced and a lot of older people take their children to Strážnice. Otherwise, I must say that there are not many festivals for older people in this country. We in the sixty plus category have not much choice where to go. There is the Valašský špalíček, then classic tramp and folk festivals, but the vast majority of events are aimed at the young generation.
I recall some great moments from the early years of the festival – a concert by Zuzana Navarová, night-time shooting of the film Rok ďábla [Year of the Devil], but above all an unforgettable concert of a legend of the 1960s, the Scottish singer Donovan. That was during the third season in 2002.
Yes, it's been a long time now. Donovan and I spent four days together with Jirka Vondrák, who got him here. It was incredible to touch this legend of the 1960s. We encountered a star who has a non-star behaviour. He told us very interesting things, we could put the scene of that period into a context and realise how those people were friends with each other. He was talking, for example, about Hendrix or Harrison. And it was a great concert. Many people can still remember it.
Which other moments of the festival history do you like to remember?
Some of the theme evenings were really strong. For example, when singers and musicians known from bands played solo on stage – Petr Janda, Ivan Mládek, Vladimír Mišík, Vlasta Redl and Ivan Hlas. All of them are frontmen, who always have a band behind their back, and here they performed on their own just with a guitar.
Has it ever happened to you to ask if the organisation of the festival makes any sense at all?
It always made sense, but for several years I was unable to get sponsors. Back then, I realised how great the risk was to go to it. Economists will explain to you that when you are organising a festival abroad, you must have it externally funded by 70%. I sometimes went to it with only ten percent funding. So I risked a lot. But once again I have to mention Honza Souček who has always helped me out. Several times he saved the following season by holding me up financially. In recent years, the South Moravian Region, the town of Strážnice and the National Institute of Folk Culture have been greatly helping me.
Your festival has the sun in its name, but I remember at least one year when it rained cats and dogs.
Of the nineteen years so far, three were absolutely miserable. It was not just about rain, but mainly the cold. Many visitors often decide only in the morning, depending on the weather, whether they will set off or not. But in recent years the weather has been good. Moreover, the surroundings of Strážnice are somewhat specific. Sometimes it happens to rain in Břeclav and Hodonín, but it is still dry in Strážnice.
Of course, older festival visitors do not sleep in tents. This year, accommodation properties in Strážnice were sold out well in advance. So how do the people that decide to arrive at the last minute, handle that?
Some go home in the evening and come again for the second day. After all, the fact that all is fully booked everywhere in the city so long before the festival is a sign that people have already got used to go to the festival. For example, they are on holidays, and will go to the Slunce Festival as part of it.
Are you already thinking about the next season?
I always wonder if there is going to be any next season at all… I would love to continue, but we'll see. On the other hand, however, this well-established festival probably should not disappear from the music calendar. And actually – what else would I be looking forward to every year? (laughter)
Do you already have a plan of who you would like to invite for the next year?
This is not what I have in mind so well in advance. I'll start thinking about this when this year's festival is over. Of course, I have a list of those I have spoken to this year but they could not come. So I will try to give them a chance next year. But otherwise I definitely do not know who I will invite.