After the American tour, the Brno Philharmonic, led by chief conductor Dennis Russell Davies, has prepared a mini-festival of three interconnected evenings called Dialogues. Each of these evenings offered a unique dramaturgy with extraordinary repertoire. It was partly linked to the aforementioned tour (e.g. the concert From America to the Czech Republic). The final concert of the trilogy, which took place on Friday 10 March at the Janáček Theatre, offered the home audience monumental orchestral works from the pens of composers Alfred Schnittke and Sergei Rachmaninoff. The entire concert was broadcast live on Czech Radio's Vltava station.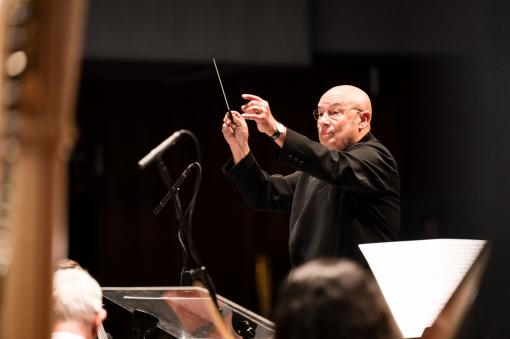 The first half of the evening belonged to Schnittke's Violin Concerto No. 4, a unique polystylistic work. Completed in 1984, the concerto was originally written for Gidon Kramer and the Berlin Philharmonic. The composition is also linked to the personality of Kramer through the motivic material forming a cryptogram of several names, including that of the acclaimed Latvian violinist (g-c-d-e, g-d-e-e). On the occasion of the performance of this piece, the Brno Philharmonic invited violinist Milan Paľa, whose musical setting, accompanied by the Philharmonic, was captivating. For the first time in a long time, this was such an expressive interpretation of the piece that the audience was almost forced to keep its eyes on the performer. With his expression, Paľa let an unbridled flow of emotions flow through the instrument, completely and in detail elaborated thoughts supported by the violinist's bravado. The pure, clean, flawless interpretation drew all the attention of the audience and was the highlight of the reviewed evening.
After the intermission, Symphony No.3 by Russian composer Sergei Vasilyevich Rachmaninoff followed. The three-movement work, written between 1935 and 1936, ranks among the great orchestral works in terms of instrumentation and sound. The eclecticism that Rachmaninoff was often accused of is combined with elements of film music and jazz in the composition. The symphony is not a significant milestone in the composer's change of compositional language, but it does contain a novel harmonic structure and work with a distinct musical idea, a motto. A very pleasant surprise was the performance by the Brno Philharmonic under the baton of chief conductor Russell Davies. The work as performed by the orchestra seemed sovereign, unified, which unfortunately we are not used to from its side lately. Phrases, ideas, and individual emotions were ingeniously constructed. The violin solos played by concertmaster Pavel Wallinger were refreshing. The overall feel of the symphony was convincing and formed a pleasing contrast to Alfred Schnittke's previous work, both auditorily and dramaturgically.
The last of the three concerts can thus be seen as an imaginary end to the great success of the ensemble abroad and as a successful conclusion of this tour.
ALFRED SCHNITTKE Violin Concerto No. 4
SERGEI RACHMANINOFF Symphony No. 3 in A minor, Op. 44
Milan Paľa – violin
Brno Philharmonic Orchestra
conductor Dennis Russell Davies
Friday 10 March 2023, Janáček Theatre at 19:00