Doctor Fligg talked to us about one of the most talented composers and musicians of the first half of the twentieth century – Gideon Klein. He is at the same time one of the organizers of the project Gido's coming home, which commemorates a flat one hundred years from the composer's birth.
How did you even get to Gideon Klein? I would not expect him to be as famous as that in the UK.
That's a very interesting story! I was aware of Gideon Klein, but not to any great extent. I knew him along with the others such as Viktor Ullmann, Hans Krása and Pavel Haas. I also knew he was one of the Terezín composers. I'd been doing some research and discovered that many of his manuscripts, photographs and personal papers were in the archives of the Jewish Museum in Prague. In particular I was interested in an orchestral arrangement from his student days. It was Mozart's Sonata in C for four hands. I wanted to look at the original manuscript – which, however is not available in the public domain – and to create an edited version for performance. I obtained a small research grant in order to do that. One outcome would be the performance and the other one would be I would write an article. I went to Prague and saw the manuscript and in actual fact it wasn't quite as exciting as I had thought. But a very interesting thing happened. Lots of material about Gideon was written, which has never been evaluated. Lots of family photographs, correspondence, all sorts of personal documents, birth certificates, school reports and so forth. I thought: There is a life-story here. And I spent few days in the archives. I tried in a way to sort all of this information. Then on the last day in the archives the taxi was going to pick me up from there, the archivist asked me, whether I had seen this one of the last letters that Gideon ever wrote, which was smuggled out from the Fürstengrube concentration camp. This would be in the winter of 1944/1945. It was addressed to the non-Jewish mother-in-law of his sister. And somehow by some miracle the letter found its way back to Prague. The whole story sounds like a detective story. The letter is the last documentary evidence we have of Gideon. It was heart-breaking, because he writes to his family and hopes they are all well. He didn't know that by that time all his family were dead apart from his sister Lisa. In the letter he repeated three times "do not forget about me". And that was a final message that I took away from this archival visit. I was on the flight back to the UK and that quoted phrase "do not forget about me" just kept going through my head. Since that day Gideon has become part of my family. That is how it all started.
The whole event Gido se vrací domů started in July and it ends in the first half of December. Visitors are going to hear Gideon's (but not only his!) music in Holešov, Přerov, Brno and in Prague. What connection does Gideon have with these towns and cities?
He was born in Přerov. He had a very happy childhood in a fabulous family. When we are talking about Gido se vrací domů [Gido's coming home], Přerov was an obvious choice. We are dedicating a memorial plaque there in the Jewish cemetery as well. There is going to be music, not only his but also music inspired by him. In Holešov we were invited by the Ha-Makom, The Festival of Jewish Culture. We've had an evening of Gideon's music there. It would be really appropriate for him to go to a Moravian town – his roots were Moravian and he culturally identified as Moravian. He was inspired by Janáček. The concert itself was in the beautiful synagogue. It would be really lovely to get him to connect to that town and to that beautiful building. And Brno simply because it is the second largest city of the Czech Republic. Brno is a very cultural city. We are performing the music in villas that belonged to Jewish families. Brno is a city that I fell in love with. And Prague obviously goes without saying. Gideon loved Prague, he was absolutely intoxicated with the city, as you can imagine. And in that period between the wars when there was that wonderful flowering of Avant-garde art and culture. I think these places chose us rather than we chose them.
Was it difficult to create and manage a project that took place in all these cities and towns?
The biggest challenge was probably in Přerov, because it doesn't have a tradition of classical music any more. They used to in the early days of the last century, when they had opera. And when we were planning to do something we were told by local people that it will be a challenge. But I have to say that the town and people have been tremendously supportive. We couldn't wish for better support. Everybody was so enthusiastic in every way.
In Czech Republic the financing of the culture is kind of problematic and all sorts of wonderful projects don't get enough support to actually shine. Did you have to solve this problem as well?
Money is always a big issue. For example, the situation in the UK is, that if you go there to an organization or a concert hall and tell them you would like to make a concert there, they will start to talk about money immediately. They will say: "Fine, you can do this concert but it will cost you five hundred pounds." You get nothing for free in the UK, not even a cup of tea. Here in the Czech Republic, it was different. Once we explained what we are trying to do, we were offered venues if not for free then at a very reduced rate. There also a great number of musicians who feel deeply passionate about Gideon Klein. Even if we wouldn't pay them, they'd still do it, I am certain. But of course we are paying them. (laughter) We had some generous funding from some Jewish organisations, from the Gideon Klein Foundation, and various others. But most of our money comes from Arts and Humanities Research Council in the UK who are generously founding all our activities.
The project gives also the space to new compositions inspired by Gideon Klein. Who wrote this new pieces and how the authors get to the project?
Well, one of these pieces is the world premiere of Fünfundzwanzig, a piece for clarinet and piano by Martin Konvička. It's a very interesting title, because Gideon only reached the age of 25 and Martin Konvička has reflected on what the opportunities might have been had he lived long enough. So, it's a very interesting and provocative title, with a premiere in Přerov and a repeat here in Brno. Martin is also from Přerov. And the other composer that we are working with is Daniel Chudovský. We worked with him previously on the festival ZE STÍNU: hudba a divadlo židovského archivu [FROM THE SHADE: Music and Drama from a Jewish Archive]. He's not Jewish himself, but he's using the aspects of Jewish music and tradition. He wrote a piece for soprano and a string quartet, also a world premiere.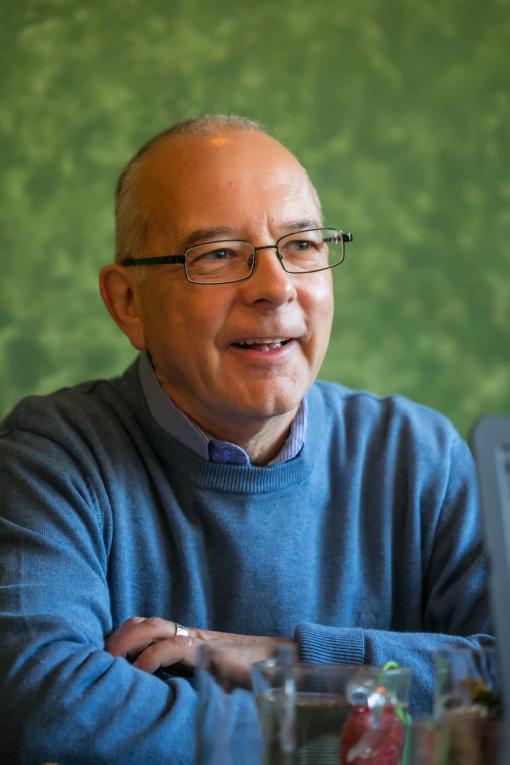 What is the notion of Klein's (or other Jewish composers) music in the UK? Were there any refugees that managed to flee and to continue their musical life in Britain?
One composer had quite a significant revival in the past few years. That's Hans Gál, a very interesting composer. His music was widely popular in the pre-second-world-war Austria and Germany. He managed to get in the UK, he was then imprisoned for a short while as an enemy-alien. That was sort of a shameful blob on the British policy. But nonetheless he was released and then pursued a career of a musicologist, although he was a famous composer in central Europe. When I was a student Hans Gál was known as a musicologist, not as a composer. And now I am rediscovering his music, which is being performed more and more frequently in the UK. Not so long ago on the BBC he was a composer of the week. When you listen to his music, he is writing in that Austro-German late Romantic musical tradition. Something like Richard Strauss. So, he is not a modernist, but has an immense amount of interesting craft. So, that is one story with happy ending, but unfortunately he didn't live long enough to see this. Other composers weren't so lucky. There are not many of those still being performed. Only sometimes they are commemorated. Our goal should be to place these musicians and composers among the peers of their age, out of the ghetto, because that's where they belong, not behind the glass in a museum.
How often do you come for a research to Czech Republic? Are you interested in other Jewish composers?
I come here regularly. This my fourth visit in six weeks. So, I am always here, which is always nice, because I love the Czech Republic and Czech people. I just feel like home here. As if I were connected with this country. And it's fine to get out of the UK, where it's starting to get very stressful. Anyhow, I am interested in other composers, but at the moment Gideon is not allowing me to investigate them.
In December the day before Gideon's birth you are launching your book called A letter from Gideon. Could you tell us something about the book and give us an insight what can readers find in it?
The godfather of the book is going to be Josef Třeštík, who is Franz Kafka's grand-nephew. Also his grandfather Erik Saudek was a friend of Gideon. I am thrilled that Josef is now the dramaturge of the Prague Spring. The book itself is based on the evaluation of, and research into, all of this wonderful source material. It is not only about the letter. For me that was a starting point, but in the book it is going to be the end point, where everything is leading to. But there are also testimonies from survivors who knew Gideon. There's a lot of information about his activities, about his personality, his amazing family. During the war his mother for example was delivering leaflets for resistance in Prague. There is some analysis in the book, but hopefully it won't put the average reader off too much! Maybe it will at least partially rehabilitate Gideon and put him on another journey.
What other projects would you like to realize in the future?
I think that I would like to write more or investigate more about the activities of the Klein family, especially during wartime. His sister Edith was part of the Czech resistance in Prague along with her husband Jaroslav Dolák, though he was arrested and eventually executed in Munich. She was arrested as well and sent to Auschwitz where she died. So, the story of Gideon Klein's family hasn't fully been told yet, and that there will be more to do. But that of course won't necessarily be a musical story. It will be a challenge for me though, because I am a musicologist. Apart from that I would like to convince people that Gideon would have made a big noise in the music world. From all accounts he was a fantastic pianist. Unfortunately we don't have any recordings of his playing. But if you are an 18 year old and you are graduating with the performance of Beethoven's 4th Piano concerto, well that tells you something. He was not only a great pianist, but also a wonderful educator (especially in Terezín), an amazing composer and a great communicator as well. If we were to look at his future, I think he would become a sort of a Leonard Bernstein type personality, which sounds really ambitious, but that's my feeling about him.