On the next day after the powerful experience I had gotten from the performance of Requiem by the Armenian composer Tigran Mansurian, I had the opportunity to meet its creator. The fragile, gentle and sincere music thus foreshadowed me of its author, with whom I spent a few precious moments in the director's lounge of the Besední dům in Brno in a very friendly conversation.
The production of your Requiem by the Brno Philharmonic was not only the Czech premiere in the broadest sense of the word – the concert was performed by Anja Petersen together with Andrew Redmond, moreover under the baton of Alexander Liebreich. All of the above also stood at the premiere of the work in 2011 and participated in its highly appraised recording. Was this your wish for the work to be rendered in the most authentic form possible, or did we just have the best of luck in Brno?
Already the first rehearsal for the Berlin premiere of 2011 was decisive for the way I perceive this composition. When you first hear what only sounds in your mind until then, the whole composition translates into a real sound. It is always an extremely interesting process and always unique. And in the case of Requiem, what I had until then perceived only internally, and what maestro Liebreich achieved, merged into one. And not much has changed since then. Of course, it is sometimes necessary to look at seemingly tiny details, like when we recorded this work for ECM Records. (Also under the baton of Alexander Liebreich and with Münchener Kammerorchester and RIAS Kammerchor Berlin – note by LP). At such a moment, everything becomes much clearer and a number of things emerge to the surface, concerning both the choir and the orchestra, and especially the soloists.
Does this also happen when Requiem is led by other conductors?
That is for sure – the composition already lives its own life, completely independent of the composer.
How do you perceive the differences between the premiere and subsequent performances of the composition?
I usually try to have the performers that we had at the Berlin premiere to be present also under the direction of another conductor. I want the outcome to be as close as possible to that of Alexander Liebreich in Berlin. And now we also have a recording that could make it easier for new conductors to work in this direction.
And now you made a trip with the artists to our Moravian metropolis personally ...
Well, the truth is, when it comes to Requiem, I usually don't travel anywhere any more. If some new work is to be performed, then my presence is probably desirable. But here I rather enjoy the position of a guest. When it is a festival and I am, for example, a composer in residence, I attend the performances. As for some of my older pieces, I usually get to know about them on the day after, from the newspapers. But I don't mind this greatly. In fact: I don't like to travel at all.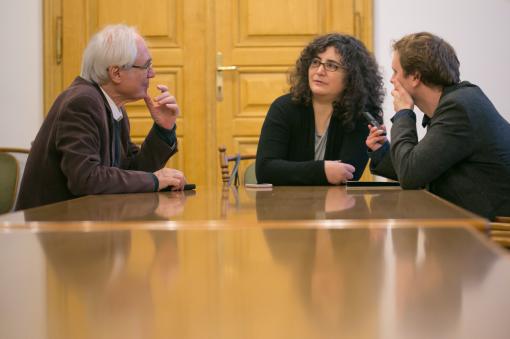 What eventually made you travel to Brno?
I was here in 1964 when it was still Czechoslovakia... and I was still young. I had a very nice relationship with several local personalities of musical life. Marek Kopelent and his Musica Viva Pragensis premièred one of my compositions in Prague. But I wasn't there, for obvious reasons. But I also kept in touch with other people. There was for example the composer Ivana Loudová, who I had met in Yerevan, Armenia. She was a very noble lady with unconventional insight into Armenian culture. And all these memories, as well as the invitations I received from the Brno Philharmonic and Alexander Liebreich, eventually overwhelmed me. Czech music has a special place in my heart, especially Janáček. Now that I have spent those few days here, I hope to take away a piece of Janáček with me.
How did you perceive the combination of Bach's cantatas with your Requiem ?
It is an interesting combination, but it had nothing to do with me. It was the work of the people preparing the programme. It is clear that in the preparation of a plan for the whole season, a number of unbelievably complex processes are under way, which are behind the broader idea of ​​the whole. For me personally, the programme reflected post-modern tendencies in music and art in general. When we premiered the composition, we had Mozart's Requiem suited with it.
If you had to choose something else, what do you think might be played in the first half of the evening?
Well, in terms solely of desire and not practicality, I would feel nice in the company of Arvo Pärt. We had a similarly shaped concert in Lisbon. The first half was Pärt, the second was my Requiem, but as far as older composers are concerned, I have no idea.
You are a composer of art and incidental music; how do you distinguish these different media in your compositional practice? How do you approach them during the composing process?
It's not a simple relationship at all. Often I was obliged to write incidental music, and when that was the case, I had to take full responsibility for the whole result. It is often difficult to translate the meanings of certain things into film music and it requires a special, very unique way of thinking. It's like becoming another person. And the transitions between this point of view and the unfettered composing, in which one is solely responsible for himself, have often been very challenging.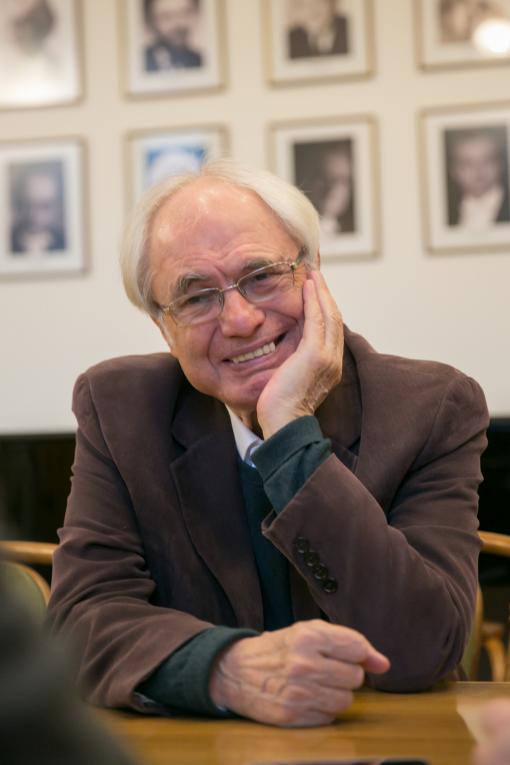 You composed the last film score for The Tango of Our Childhood in 1984; would incidental music be still attractive for you today?
Exactly, it was the last film. I won't write any more incidental music anymore. Even so, I wrote quite a lot of music for films. What is featured outside the films is only a fraction of what I composed for these purposes. I also wrote music for theatre, but I never included these compositions in my "collection". I never took them out of their context.
And is there any type of film that would persuade you to the opposite?
Sometimes I watch movies in the evening, and quite recently I watched a very unusual film by a British director whose name I can't remember now. However, the film itself was extremely interesting – the two protagonists did not share a common language, each speaking a different language without the possibility of a translator. They were a man and a woman, and they were accompanied by poetry. That is something you don't see much in movies - that they are dominated by poetry instead of spoken word. And this synthesis was unexpectedly fresh and interesting to me. In this context, music is able to add yet another strong artistic level to a composition. Maybe something unusual would be the way for me.
Do you perceive any significant changes in your own musical style? What are your major turning points?
When I graduated, I had to renew myself, completely rebuild myself. I had to become "Boulez's student". I had to get to know Stockhausen and other leading composers of that time, their techniques, and compositions and so on. I was very far away from the world's music centres, where it was boiling with new music. It was a time when I composed the composition Interior for a string quartet. At that time, I read a book named Man's Place in Nature by Pierre Teilhard de Chardin, in which the author claims that the evolution and progress of man will increasingly become an internal matter of man descending into himself. So I wrote a composition that aims to reach that core, and that caught the attention of Pierre Boulez. Moreover, the work matched his aesthetic feeling, and eventually he had it produced in Paris. I still have no idea how he got to the score. After all, it was the time of the Soviet Union... And then one day I met Boulez. He expressed appreciation for the composition and gave me the names of other composers who were devoted to similar music. And at that moment I understood that I had "passed the test" and could continue to seek myself and my artistic expression.
You taught music theory until 1986; were there also people interested in studying composition with you? Do young composers ask you for advice?
I taught composition for a short time, but I realized that each composer must carry his own cross. And it is impossible for one to help the other by himself. So at least I came to realize that I wasn't the right one for that. I was not able to enter one's unfinished composition. And so I only really did the teaching only for a short time. I simply could not reach the necessary connection with the students.
Composers often use their works to communicate deeper non-musical reality and the works often relate directly to the current social or cultural situation. After all, your Requiem was created as a reminder of the victims of the Armenian genocide. Is there any inner quality that art should always have?
It is my deepest conviction and at the same time my most important requirement that the composer must remain sincere and truthful. For me, this is the most fundamental thing, regardless of the work itself. This achievement, this becoming the materialization of the truth, means that there is no space left for anything outside the realm of music. I myself am quite reluctant to programme music and I do not even feel the need to listen to it. Of course there are common points between music and life as we experience it, but it is such a fragile and delicate relationship that there is no room for programme motives. For me it is important who wrote the music. But the most important thing is what the music enthusiast feels, the one that had grown in me since my childhood. And I try to combine these two things – the music-loving me and my professional self – into one, into profession and love. And from this point of view, things beyond the reach of music have pretty little to do with love.